Nashville, TN — Team Hagerty today released a Throwback Thursday video reminding Tennesseans that Massachusetts Manny Sethi himself donated to Tom Perriello, a Democrat who strongly supported Obamacare, called the National Rifle Association (NRA) a "nut-job extremist organization" and now runs George Soros' Funded Group Open Society which has bankrolled millions to the Marxist BLM movement.
"Massachusetts Manny Sethi is lying to Tennesseans. He donated to his self-described 'family friend' Tom Perriello because they believe in the same core policies, including Obamacare and gun control," said Abigail Sigler, campaign spokesman. "Massachusetts Manny and Tom Perriello are two peas in a pod, and undoubtedly, Massachusetts Manny is too liberal for Tennessee. That's why President Trump and Senator Marsha Blackburn have endorsed Bill Hagerty for Senate. He's the true Trump conservative who will fight for Tennessee's conservative values."
Watch "Family Friend" HERE.
Don't be fooled, the FEC report clearly shows Massachusetts Manny Sethi made the donation.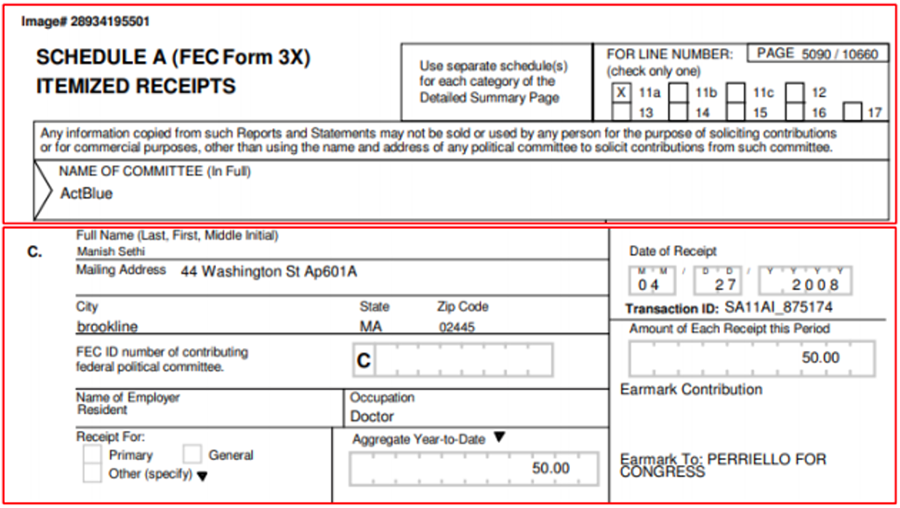 Even his own campaign staff has confirmed it several times.
("Top GOP contenders in Tennessee's U.S. Senate race begin attacks as gap narrows between Hagerty, Sethi," Tennessean, 7/16/20)
""U.S. Senate Candidate Bill Hagerty Early Votes, Says Opponent Manny Sethi Acts Conservative Out of Convenience," Tennessee Star, 7/18/20)
Learn more about Massachusetts Manny's liberal track record HERE.
###